THE HINDU TEMPLE OF CENTRAL TEXAS
OMKARA MAHAGANAPATHY DEVASTHANAM
The GANESHA TEMPLE OF TEXAS
4309 Midway Drive, Temple, TX 76502
www.hindutemple.org /254 771 1270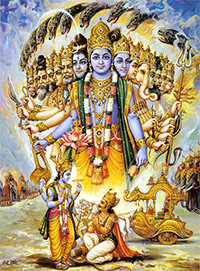 11th Biannual Bhagavad Gita Chanting Competition POSTPONED

Dear Devotees,

Due to multiple conflicting schedules and unavoidable circumstances, the Competition scheduled for the 5th of October is POSTPONED to October 19th, Saturday.
The deadline for registration is extended to Satruday the 12th of October.
All other details will remain the same.

Venue: Saraswathi Nilayam of HTCT.
All devotees are invited to listen to the sweet recitation by the children
All registrants are requested to arrive at least 15 minutes early (so that we can start on time) and stay till the end of the competition.
Please note: the concluding verse of every chapter, " iti srimadbhagavadgitasupanishatsu……." Should not be chanted as the concludig verses are not chanted.

VERSES FOR RECITIATION: CHAPTER 6, VERSES 20-40
Grouping is as follows:
Pre-K and KG - 5 verses (20-24)
1st and 2nd Gr. - 7 verses (20-26)
3rd and 4th Gr. - 10 verses (20-29)
5th and 6th Gr. - 15 verses (20-34)
7th Gr. and up - 20 verses (20-40)
Registration fee: $15.00 first child, 10 for each additional child from the same family

Register by sending the information on your child(ren) with the details (name, age, grade, address, contact tel. # with the name of person to contact) and the check (payable to HTCT) to:
The HINDU TEMPLE OF CENTRAL TEXAS
4309 Midway Drive,
Temple, TX 76502

Judgment is based on:
1. Clarity of expression
2. Memory power
3. Confidence in presentation

THE RECITATION ORDER AS DEVELOPED WILL NOT BE CHANGED DUE TO LOGISTICAL ISSUES.

HTCT Board