THE HINDU TEMPLE OF CENTRAL TEXAS
OMKARA MAHAGANAPATHY DEVASTHANAM
The GANESHA TEMPLE OF TEXAS
4309 Midway Drive, Temple, TX 76502
www.hindutemple.org /254 771 1270
AGASTHYA - A MULTIMEDIA PRODUCTION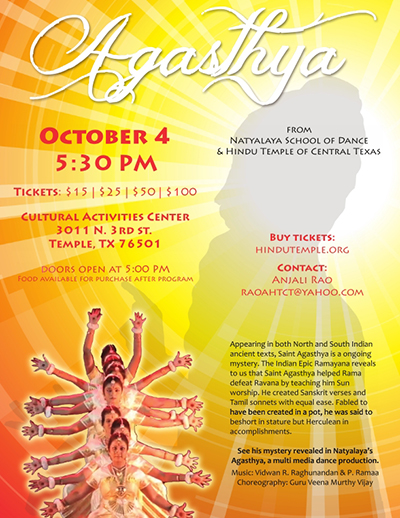 Agasthya - A Multimedia Production Brought to You by Natyalaya School of Dance & The Hindu Temple of Central Texas.
Who is Agasthya who gave Aditya Hrudayam to the fatigued Sri Ram in the battle-field reciting which Sri Ram overcame his despondency and killed the evil demon, Ravana?
Find out the fascinating details on October 4 at the Cultural Activities Center. Informative, fascinating and entertaining. Story of one of the foremost saints in the Sanatana Dharmic Tradition.
Purchase tickets on-line (to be picked up at the door) at www.hindutemple.org.
Priests:
Sreeram Hariharan
BS Srinidhi
HTCT Board