OMKARA MAHAGANAPATHY DEVASTHANAM
THE HINDU TEMPLE OF CENTRAL TEXAS
4309 Midway Drive, Temple, TX 76502
www.hindutemple.org /254 771 1270
PUNARUDDHARANA MAHA-ABHISHEKAM
MARCH 26-29 (Thursday-Sunday), 2015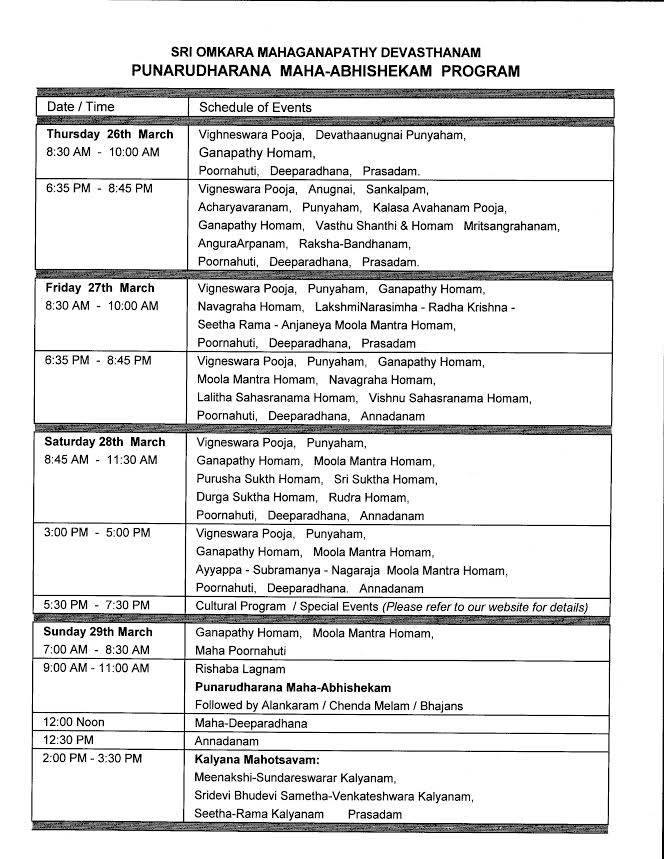 We can't believe that it has been twelve years since the original installation and consecration (kumbhabhishekam) were performed at the Hindu Temple of Central Texas in Temple, Texas. In fact, it is the first traditional Hindu temple of Central Texas. The Shastras ordain that the Punarudharana Maha-abhishekam (rededication) should be performed every twelve years after the establishment of a temple to renew, nurture, and preserve the divine presence of the deities; and to revitalize the dedication of the devotees and their connection to the divine power. It is time for that rededication or Punaruddharanam. It will be held from Thursday the 26th through Sunday the 29th. The rituals will be performed by a group of seven scholarly priests in accordance with the Agama Shastra and Vedic Traditions. Please visit the temple web-site, www.hindutemple.org, for details and sponsoring information. All devotees are invited to attend and participate in this milestone event.
In addition to the religious functions, there will be spiritual talk by Swami Shivatmananda (formerly, Br. Girish Chaitanya), speech by invited guests, and a dance program.
AN OVERVIEW OF THE PROGRAM IS REPRODUCED HERE:
The trophies of the Mythology Quiz held on 02/07/2015 will be distributed to the participants after the noon Deeparadhana on Saturday, March 28th.
The raffle tickets will be drawn after the Kalyana Mahotsavam on Sunday the 29th.
-----------------------------------------------------------------------------------------------------------------------------------------------------------------------------
HTCT Board