THE HINDU TEMPLE OF CENTRAL TEXAS
OMKARA MAHAGANAPATHY DEVASTHANAM
The GANESHA TEMPLE OF TEXAS
4309 Midway Drive, Temple, TX 76502
www.hindutemple.org /254 771 1270

KUCHIPUDI DANCE ACADEMY of CHENNAI
Presents
A Kuchipudi Dance Recital
30th - Saturday 6:30 - 8:00 p.m.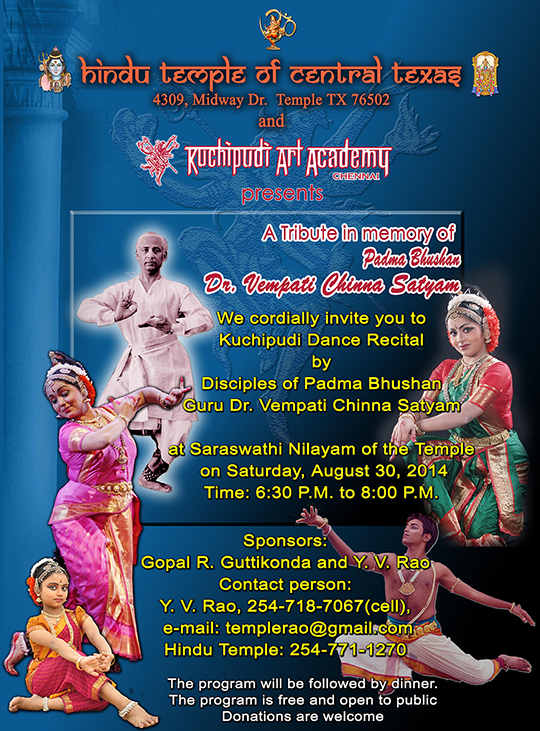 Please note: The program will be follwed by dinner.

Priests:
Sreeram Hariharan
BS Srinidhi
HTCT Board
KUCHIPUDI ART ACADEMY OF CHENNAI


(A tribute in Memory of The Kuchipudi Art Academy Founder and legend, Dr. Vempati Chinna Satyam, Affectionately known as Guru Vempati, the colossus of Kuchipudi Dance, has played a pivotal role in the rejuvenation and spread of this dance form. His contributions are significant for it breathed a lease of life into this art, at a ime it was on the verge of receding into oblivion. Vempati vowed to himself that he would spread Kuchipudi Dance form, which was his family tradition, bringing out its innate potential. He established the Kuchipudi Art Academy in Chennai, India, in 1963 which facilitated him to bring in a nationwide exposure to this art form. The institutional teaching wherein he created a systematic method of teaching with a vast potential in the next 50 years, brought him the laurels of 'Great Innovator. His dance dramas such as Ksheera Sagara Mathanam, Srinivasa Kalyanam, Hari Vilasam, Chandalika etc., were master pieces in Kuchipudi art. In short Kuchipudi dance form is well known in India by Guru Vempati's name, fame and his innovations he created.

Kuchipudi Art Academy, which he established and built in 1963, has trained over 9000 excellent dancers in this art form. Several of them established their own dance schools not only in various cities of India but also in East and West. The artists for tonight's program include Srimayi Vempati, elder daughter-in-law of Guru Vempati, Lakshmi Kameswari, his grand daughter, 8 years of age, and Amarnath Ghosh. Srimayi who started her dance career at the young age of 6 and was trained in Bharathanatyam, another famous dance form of India, for 12 years. She joined the Kuchipudi Art Academy in 1994. Ten years of rigorous training saw her blossom into an artist of technical and emotive excellence. To Srimayi dance is her life, it is the pulse, the heart beat, the breath and rhythm of life. She moved up from Assistant Dance Instructor to Chief Dance Instructor at the academy in less than 10 years. She toured all over India, USA, France, Singapore, Australia and New Zeeland. As a solo artist she performed in many dance festivals in India and abroad. She participated in several of the prestigious dance dramas choreographed by guru Vempati. She also conducts training camps in the nuances of Kuchipudi dance in Several cities in India and Abroad.

Lakshmi Kameswari is the grand daughter of Guru Vempati and the daughter of Venkatachalapathy and Drimayi. Venkat is the Director of the Academy and manages all the programs both in India and abroad in addition to his administrative responsibilities. Lakshmi was initiated into Kuchipudi dance by her grand father at the age of 2. She created a space for a possible record at the Guinness book of world records as the youngest Indian dancer on a brass plate even before she was3 years old. She participated in few dance dramas and her grip over laya and her vibrant stage presence captivated the audience in her recent performances. She excels not only in dance but also in her academic school curriculum.

Padma Bhushan Dr. Vempati Chinna Satyam) Amarnath Ghosh completed his diploma in Bharathanatyam in 2011 and is pursuing his dance career at Kuchipudi Art Academy under the guidance of Srimayi Vempati since then. He has learnt several art forms such as Manipuri, Kathak and contemporary style folk dance in addition to Bharathanatyam and Kuchipudi. He also has musical talent in Industani vocal, devotional music, bhajans and folk songs. He participated in several dance festivals in various parts of India to include Khajuraho Dance Festival, Sangeet Natak Academy, etc..

The program includes several solo performances by these artists to include Ganesha Kowthvam, Siva Stuthi, Tarangam, Astapadi, Sabdam, Thilana, Bhamakalapam, etc. The artists will entertain us with various postures of abhinaya, hand movements, eye and neck movements, mudras etc. in the finest Kuchipudi style. Please relax and enjoy the evening for the next 90 minutes. There will be a dinner after the program.