OMKARA MAHAGANAPATHY DEVASTHANAM
THE HINDU TEMPLE OF CENTRAL TEXAS
4309 Midway Drive, Temple, TX 76502
www.hindutemple.org /254 771 1270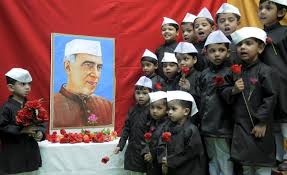 SATURDAY NOVEMBER 14, 2015, 6:30 P.M.
Chacha Nehru (Jawaharlal Nehru) was born on November 14, 1889. As he was very fond of children, his birthday is celebrated all over India as Children's Day. We, at the Hindu Temple of Central Texas, will celebrate Children's day on Saturday November 14 starting at 6:30 p.m.
The program is open to children of all ages. We encourage all parents to have their children participate in the various events. THIS IS THEIR DAY.
The items so far are as follows:
1. A tribute to Jawaharlal Nehru
2. Fancy dress competition (entries open)
a. In attires of the state in India where their parents are from.
b. In attires of a Freedom Movement leader and say a few words on that leader.
3. Lost children. Play directed by Girija S Chintapalli
4. Vinayaka chaturdhi story narrated by an Amercan student, not of Indian ancestry, from St.Mary'school directed by Laxmi Chintapalli
5. Bollywood song by Rudransh Pancholi
6. Monoact (entries open)
6. National anthems of USA and India.
For participation, please call Girija S. Chintapalli @ 254 913 5084
The program will be followed by pizza for all.