OMKARA MAHAGANAPATHY DEVASTHANAM
THE HINDU TEMPLE OF CENTRAL TEXAS
4309 Midway Drive, Temple, TX 76502
www.hindutemple.org /254 771 1270
A SPECIAL DISCOURSE AND DEVOTIONAL MUSIC PROGRAM
FRIDAY, JUNE 3, 2016, 7:00 P.M.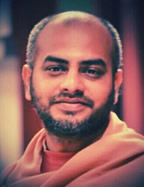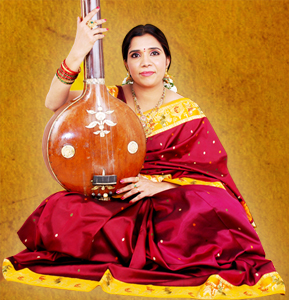 7:00 p.m.:A SPECIAL DISCOURSE BY SWAMI ABHISHEK CHAITANYA GIRI*,
head of JAGADGURU SANNYASA ASHRAM (MAHA-MANDALESHWAR), RISHIKESH
TOPIC: MUSIC IS LOVE (BHAKTHI YOGA)
8:30 p.m.: AN

ANNAMACHARYA DEVOTIONAL MUSICAL TREAT

by
Smt. KALYANI DWIBHASHYAM**
Please note: Due to time constraints, the program will start at 7:00 p.m. Sharp.
There is no fee but donations will be accepted.
*Swami Abhishek Chaitanya Giri
is the head of Jagadguru Sannyasa Ashram in Rishikesh, called respectfully as Maha-Mandaleshwar. While maintaining the spiritual traditions of the Ashram and putting in efforts to take the Ashram to greater heights of glory, Swamiji also travels to places in India and to countries like Malaysia, Hong Kong, Philippines, Indonesia, Italy and France where eager gatherings welcome him. In early 90s, he heard Swami Chinmayananda and was deeply touched. In 1996 he took up in-depth Vedanta studies at Chinmaya Mission, Mumbai. Under the able tutelage of his Acharya, Swami Anubhavananda, he emerged as an able teacher of the sacred texts. After serving Chinmaya Mission for a few years, his destiny took him to Vrindavan where he did sadhana under the guidance of Swami Vishwatmananda, a senior disciple of Swami Akhandananda, the renowned Vedanta master.
For further information: http://upanishad.info/pages/swami-abhishek-chaitanya-giri
**Smt. KALYANI DWIBHASHYAM
HailS from a traditional family of great scholars and eminent musicians, She started learning music from childhood.
Her educational qualifications include a Diploma in Music (Carnatic - Vocal) from Andhra University, Visakhapatnam; M.A. in English from S.V. University Tirupathi; and, M.A. in Music (Carnatic Vocal) from Potti Sreeramulu Telugu University, Hyderabad. A graded artist in All India Radio.
Received initial training in music from her mother, the late. Smt. Surya Prabh, and later on from Sri.N.Ch. Krishnamacharyulu Sri M.S.Balasubramanya Sarma, Sri. Parupalli Sri Ranganath .As a Singer, Musician and Teacher with great dedication and devotion towards Music, she has performed over 1,500 Concerts throughout India and USA
For further information: http://www.kalyanidwibhashyam.com/