OMKARA MAHAGANAPATHY DEVASTHANAM
THE HINDU TEMPLE OF CENTRAL TEXAS
4309 Midway Drive, Temple, TX 76502
www.hindutemple.org /254 771 1270
YOGA DAY AT THE TEMPLE
Saturday, June 25, 2016, 3:15 p.m. - 5:00 p.m.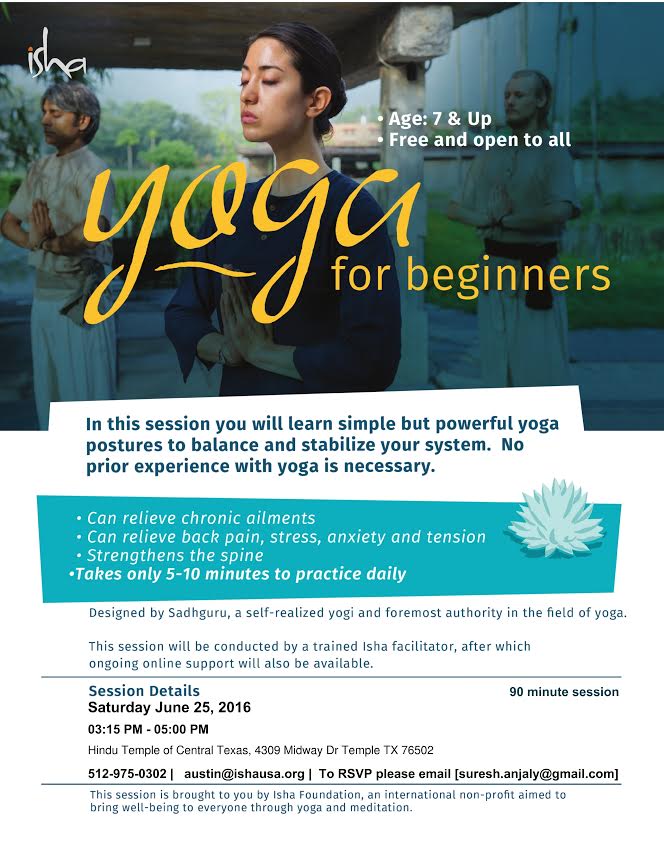 The United Nations has declared June 21 as the International Day of Yoga. ​​It is the vision of the founder of Isha Foundation to make this day into a major offering of yoga and a possibility for people of all age groups, religions, nationalities and social backgrounds to experience meditativeness, expanding their perception of life from individuality to universality.
In conjunction with this, the volunteers from the Foundation are giving free Yoga Lessons for the Beginners throughout the month of June in various cities. We are happy to have the foundation Volunteers spread the message of this time-tested way of improving mental and physical health of the practitioner.
Please see the flyer for details of the Temple class. For additional information on Isha Foundation, please visit http://www.ishafoundation.org/Isha-Foundation/overview.isa
We also wish to add that Yoga Classes are on-going at the temple at6:30 p.m. every Thursday under the guidance of Mrs. Linda Ward, an accomplished Yoga teacher and practitioner.
------------------------------------------------------------------------------------------------------------------------------------------
Please visit our web-site for the regular Sunday Classes and weekly Pooja & Special Event Schedule
------------------------------------------------------------------------------------------------------------------------------------------
Priests:
Sreeram Hariharan
BS Srinidhi
Ujas Pancholi
HTCT Board