OMKARA MAHAGANAPATHY DEVASTHANAM
THE HINDU TEMPLE OF CENTRAL TEXAS
4309 Midway Drive, Temple, TX 76502
www.hindutemple.org /254 771 1270
AUTISM AWARENESS - A FUND RAISER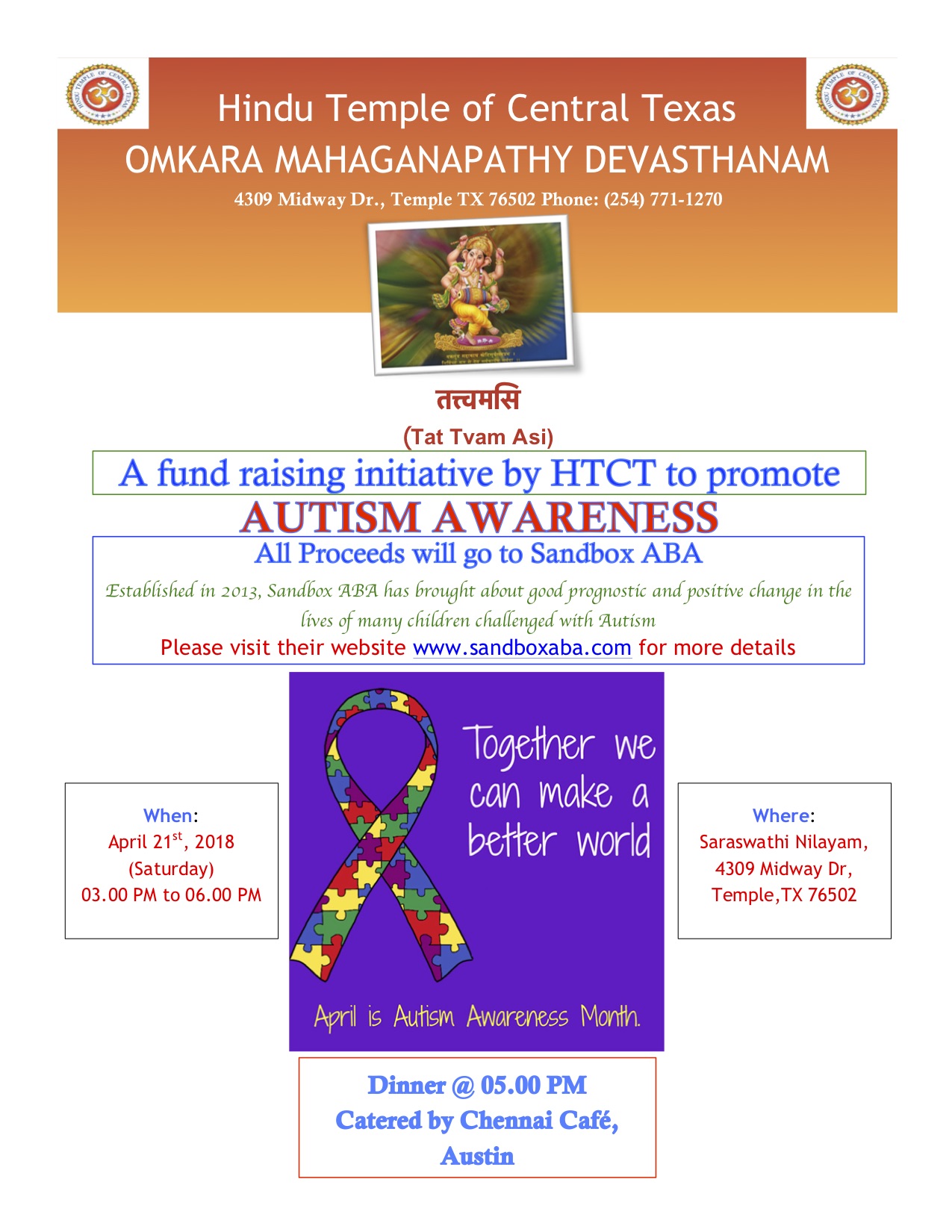 April is Autism Awareness Month. Autism is a disorder that affects one in 68 children in the United States. We all know someone who has been afflicted with this disorder. Read further at
https://www.autismspeaks.org/what-autism
Sandbox ABA is a school located in Austin dedicated to serve the special needs of these children. More about the school at http://www.sandboxaba.com/index.html.
The school wants to bring public awareness to this all too common malady that afflicts so many. There is help through Advanced Behavioral Analysis (ABA). The schood also is in need of financial support.
Towards this end, the Hindu Temple of Central Texas will hold a Fundraiser on Saturday April 21. We will hear from the school authorities, will hear parents' perspectives and from experts in the field. The program will also feature two dance performances.
Highlights of the Program:
Special needs of Autistic Children by Dr. Jerry Hall, McLane Children's Medical Center, Temple
About Sandbox ABA by Rebecca Ryan, Managing Director, Sandbox ABA
Dance Program Sarita Warrier & Group
Dance Program by Natyalaya School of Dance
How can we help? by Dr. Madhava R Beeram, McLane Children's Medical Center, Temple
Please come. attend the function to get yourself more familiar with the Autism Spectrum disorders. All the proceeds collected with this fund-raiser event will go to Sandbox ABA School. Those of you who wish to make a donation but cannot attend the event may do so on-line. Major credit cards and PayPal accepted. Please go to hindutemple.org to donate on-line.