OMKARA MAHAGANAPATHY DEVASTHANAM
THE GANESHA TEMPLE OF TEXAS
THE HINDU TEMPLE OF CENTRAL TEXAS
4309 Midway Drive, Temple, TX 76502
http://www.hindutemple.org /254 771 1270
GANAPATHI NAVAGRAHA HOMAM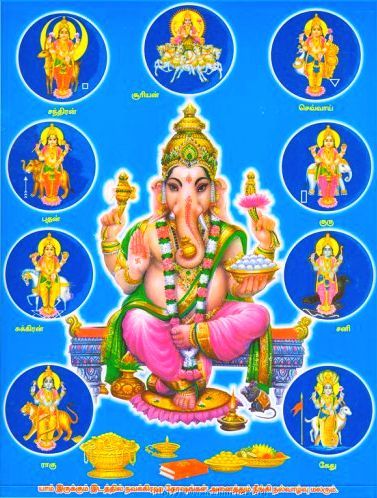 Saturday- Aug- 29th, 5:30 p.m. to 7:00 p.m.
Please click on the link below to join the live-stream coverage.
Youtube
:
https://www.youtube.com/c/HinduTempleOfCentralTexas

Also on Zoom, from the temple web-site, Click on H.E.A.L.ing Prayers.
Sponsorship to your ability. Please send us an email with name(s), Gothram and Nakshatra(s). Then go to our website, click 'Donate'and follow the prompts.
Or, you may send a check payable to 'HTCT' and mail to the temple address above.
Rahu/Kethu Peyarchi: The story.
Planetary movements do bring changes in one's life. Rahu and Kethu are considered shadow planets for the Sun and Moon, without any physical existence. They are set to move from Cancer and Capricorn to Taurus and Scorpio respectively and will stay there for 18 months. Being shadow planets they acquire the traits of the planets that rule those signs. Thus Rahu acquires the signs of Venus in Taurus and this will boost creativity, ambitiousness and improves your versatility to build wealth. Ketu is moving to Mars ruled Scorpio and bestows determination and in depth knowledge to find solutions to all problems and grow spiritually.
In the Puranic texts when the Gods and Asuras churned the milky ocean to extract Amrita, the Elixer of Immortality, the Demon Swarbhanu was present disguised in the row of Devataas between the Sun and the Moon and drank some Amrit. The Sun and Moon Gods noticed this and informed Mohini (Vishnu avatar). Mohini cut off the head of Svarbhanu with the Sudarshan Chakra. As he had had the Amrit, he was immortal. So the head came to be known as Rahu and the body became Ketu.
These planets are indicators of our past Karma and play a significant role in shaping our present life situations. To mark this planetary movement of Rahu/Kethu and to propitiate them, the Hindu Temple is performing special Homam and Puja..