OMKARA MAHAGANAPATHY DEVASTHANAM
THE GANESHA TEMPLE OF TEXAS
THE HINDU TEMPLE OF CENTRAL TEXAS
4309 Midway Drive, Temple, TX 76502
www.hindutemple.org /254 771 1270
SAMOOHIKA SATHYANARAYANA POOJA with live streaming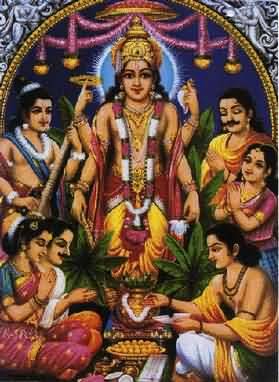 JUNE 13th Saturday, 5:30 p.m.
Please click on the link below to join the live-stream coverage.
https://www.youtube.com/channel/UCh2BiKF92bnEsQd0rbJ9eVw
Sponsorship to your ability. Please send as an email with name(s), Gothram and Nakshatra(s). Then go to our website, click 'Donate'and follow the prompts.
Or, you may send a check payable to 'HTCT' and mail to the temple address above.
PLEASE CONSIDER MONTHLY SPONSORSHIP. WE HAVE A MATCHING CHALLENGE FROM A DEVOTEE. Details on the website.
CORONA VIRUS ALERT AND TEMPORARY TEMPLE TIMINGS:
The main sanctum will be open from 10:00 a.m. - 1:00 p.m. this weekend as well (June 13-14).
The gate will be open from 8:00 a.m. to 8:00 p.m. all week so that devotees can come and pray at the Bala Ganapathy, Aanjaneya Swamy and Nagaraja sannidhis. No priest will be available except as above.
Before you leave your home or workplace: anyone with fever, cough, shortness of breath, chills, body pain, sore throat, sudden loss of taste or smell or contact with someone diagnosed with COVID-19 in the previous 30 days, should refrain from coming to the Temple.
All the devotees, including children over 2 years, must wear mask. NO MASK – NO ENTRY. A limited supply of masks is available at the temple for $5.00 each for those who do not bring one.
Do not bring any offerings to the temple such as naivedyam, fruits or flowers. Archanas and other poojas may be done at the suggested donation.
No food be brought to the temple or consumed within the premises of the temple.
At the temple, the devotees are requested to wash their hands or apply hand sanitizer before touching the door.