HINDU TEMPLE OF CENTRAL TEXAS
OMKARA MAHAGANAPATHY DEVASTHANAM
The GANESHA TEMPLE OF TEXAS
4309 Midway Drive, Temple, TX 76502
www.hindutemple.org / 254 771 1270
MANDALA POOJA BEGINNING & MONTHLY AYYAPPA POOJA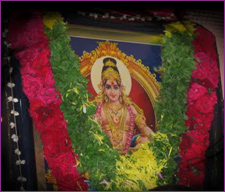 Dear Devotees,

As before, the monthly AYYAPPA POOJA will be on Saturday the 19th at 6:30 p.m. This is the beginning of Mandala Pooja and will culminate with Makara Sankranthi Pooja & celebrations on the 15th of January, 2012. There will be daily special AYYAPPA POOJA till the 14th of January. It is a good time to do Sankalpa with spcial pooja on the birthday (Nakshathra) of the devotees. The temple will perform the pooja and mail prasadam to the addressee. Special registration form for this will be set up at the temple and be available from the 19th.

This Saturday's program will follow the usual format with BalaGanapathy Pooja followed by Sankalpam, Abhishekam with Vedica Chanting, Alamkaram with bhajans, Ayyappa Aarathi, Mantrapushpam, pradakshinam, Namaskaram, saranaghosham, lighting of the 18 steps, Omkara mahaGanapathy Pooja, Harivarasanam.
HTCT Board
Sreeram Hariharan, Chief Priest.
Hindu Temple of Central Texas