HINDU TEMPLE OF CENTRAL TEXAS
OMKARA MAHAGANAPATHY DEVASTHANAM
The GANESHA TEMPLE OF TEXAS
4309 Midway Drive, Temple, TX 76502
www.hindutemple.org /254 771 1270

SPIRITUAL LECTURES - APRIL SCHEDULE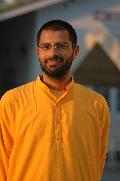 by BR. GIRISH CHAITANYA, CHINMAYA MISSION, AUSTIN.
Br. Girishji continues his series on the UPANISHADS in his own inimitable style


Monday, April 16th at 6.30 p.m.
Tuesday, April 17th at 6.30 p.m.

HTCT Board