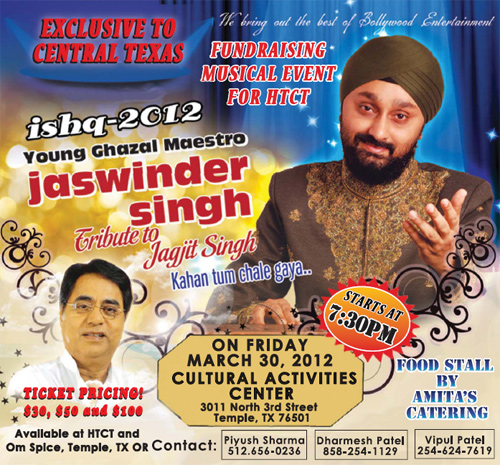 JASWINDER SINGH PAYS TRIBUTE TO JAGJIT SINGH, The renowned Ghazal Singer, who passed away last year prematurely at the age of 70.
An artist in his own right, Jaswinder singh captivates his audience with his melodious voice and clarity of expression. With humility, he salutes the master - all at the Cultural Activities Center in Temple on Friday the 30th at 7:30 p.m.
For a taste of his singing, please visit http://www.jaswindersingh.net/
Do not miss this opportunity to hear a great musician.
This is also a fundraising event. All the profit will go towards repair and maintenance of the temple.
The temple salutes Sri Piyush Sharma, Dharmesh Patel and Vipul Patel for taking the initiative to make this possible.