3:30 P.M.
Saint TYAGARAJA'S NAUKA CHARITHRAM
Presented by
EXPRESSIONS SCHOOL OF DANCE of DALLAS
(Director Radhika and 15 talented disciples)
Followed by
at 6:30 p.m.
ANNAMAYYA MADHURA BHAKTI GEETHALU
For the first time, "Annamayya Sangeethotsavalu" in 24 centres in USA & Canada
in connection with 604th Birthday Celebrations of 'Padakavitha Pithamaha" Tallapaka Annamayya
ANNAMAYYA MADHURA BHAKTHI GEETHALU
And
"Annamayya Virachitha Srungara Keerthanalu" unheard before on stage
(Music Composer : Sri Vinnakota Muralikrishna)
Place: Saraswathi Nilayam
Hindu Temple Of Central Texas
4309 Midway Drive
Temple, Texas 76502
Live Concert by
Top Singers of USA & Andhra Pradesh
Snacks will be provided between the two programs.

See the flyers for details of the programs.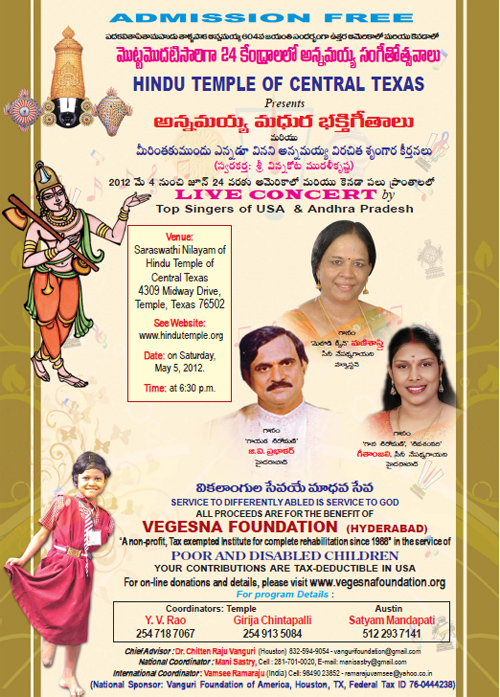 Radhika received her training in Bharata Natyam under Guru 'Nattuvanga Tilakam' Madurai Sri T.S. Jayaraman of the renowned Tanjavur school of Sri Kattumannar Koil Muthukumara Pillai. She has performed extensively in India as well as the USA.

Radhika is a versatile dancer, teacher and prolific choreographer with many productions to her credit. Her productions include classical dance ballets like "Gopi Krishna", "Nauka Charitram", "Reaching Out", 'Kuravanji" and "Friends Forever", as well as thematic theatric shows - "Tamizhukkum Amudendru Peyr", "Naalam Naalam Thiru Naalam", "Aanaa Aavannaa", "The Sands of Thiruvaiyaru", "Rangoli", "Taraana", "Kohinoor", "Ramleela", "Sitara", "Antara", "Hatke" – featuring a wide range of classical, light classical, folk and fusion dances.
As director of Expressions School of Dance, Radhika is very active in the Dallas metroplex - performing, choreographing and training groups of performers for various community and fund-raising cultural events. She takes pride in teaching people not just to dance but to dance with a passion!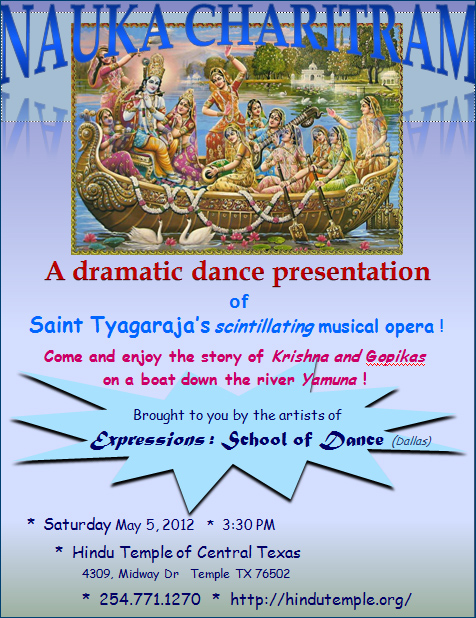 "Nauka Charitram" is a musical masterpiece of Saint Tyagaraja. Combining beautiful poetry, music and rhythm, he paints a vivid story of Lord Krishna and the Gopikas taking a boat ride down the river Yamuna. While enjoying the ride, vanity takes over the Gopikas who start boasting of their own beauty, good fortune and great virtues. Krishna decides to teach them a lesson and causes storm, rain and panic. The Gopikas finally realize their folly, shed their vanity and surrender to the Almighty. "Nauka Charitram" – the story of the boat – is presented to you as a dance-drama by a team of 15 talented artists from the Expressions School of Dance. With scintillating music and attractive choreography, they bring you the profound message of the composer as an audio-visual treat.