HINDU TEMPLE OF CENTRAL TEXAS
OMKARA MAHAGANAPATHY DEVASTHANAM
The GANESHA TEMPLE OF TEXAS
4309 Midway Drive, Temple, TX 76502
www.hindutemple.org /254 771 1270

SPIRITUAL LECTURES - MAY SCHEDULE
Wednesday the 23rd of May, and Thursday the 24th of May at 6:30 p.m.
by BR. GIRISH CHAITANYA, CHINMAYA MISSION, AUSTIN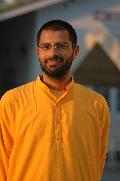 Brahmachari Girishji continues his series on KATHOPANISHAD, one of the main Upanishads. It unveils the mystery of death and the meaning of life (Swami rama).

HTCT Board