HINDU TEMPLE OF CENTRAL TEXAS
OMKARA MAHAGANAPATHY DEVASTHANAM
The GANESHA TEMPLE OF TEXAS
4309 Midway Drive, Temple, TX 76502
www.hindutemple.org /254 771 1270

A THANK YOU TO THE ONAM FEAST VOLUNTEERS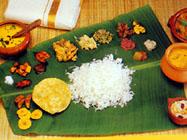 Dear Devotees.

On the 25th, for the Onam feast, we had food organized by the devotees of Kerala origin. We heard a lot of compliments how tasty and authenitic the food was. The Hindu Temple of Central Texas wishes to acknowledge the volunteers who took care of the menu, the logistics, cooking and ensuring that there was enough for everyone eventhough there was no RSVP. In all the noise and activity, it was not possible to thank those volunteers there. We salute them and thank them. They are:
Anjali Jitesh, Aradhana Ramachandran, Bini Nampoothiri, Asha Sasi, Deepa Shenoy, Gayathri Prasad,
Gayathri Rakesh, Geeta Balakrishnan, Jaya Jyothi, Jaya Nampoothiri, Jeeji Karma, Jyothi Kartha,
Lakshmy krishnamurthy, Lekha Kumar, Manoj & Kanaga Gopalan, Priya Binu, Priya Manoj, Priya Pillai, Raji Govind,
Rakhee Menon, Sandhya Perinchery, Sajitha Krishnakumar, Sarita Warrier, Sharee Madathil, Shyamala Nair,
Simi kannembrath, Smitha Manoj, Smitha Ramachandran, Sobha Damodaran, Soumiya Santha Kumar,
Sreeja Mohan, Sree Jithu, Sreekanth, Suchitra Iyer, Sujatha Nair, Suma Menon, Sumitha Ajith, Thriveny Babu,
Suchitra Iyer, Resmi Arun, Usha Manoj, Suma Menon and Usha Manoj.
We thank Gankeyan Kanthasamy for procuring the banana leaves and making sure that they were all clean. Apparently in Sri Lanka also it gets used a lot, not just in Kerala!
We salute and thank Anjali Rao and YV Rao who took care of cooking the rice, frying additional pappadam and taking care of all the logistics alongwith Sreeram Hariharan.
And then Sreeram who handled every aspect of the arrangement of both Ayyappa Pooja and the feast (Sadya).
Please forgive us if we have left out anyone including the husbands.

Sarita Warrier co-ordinated the entire effort.

Many of them are highly talented professionals and they are also musicians and dancers.

H.T.C.T.