HINDU TEMPLE OF CENTRAL TEXAS
OMKARA MAHAGANAPATHY DEVASTHANAM
The GANESHA TEMPLE OF TEXAS
4309 Midway Drive, Temple, TX 76502
www.hindutemple.org /254 771 1270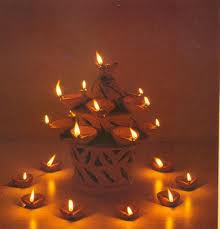 DIWALI CELEBRATIONS

Dear Devotees,
HAPPY DIWALI TO ALL!
We had Diwali observance today with Lakshmi-Kubera Pooja followed by dinner.
But, the temple volunteers have a great DIWALI program planned for Friday the 16th at 6:30 p.m. as per the following schedule.

16 th - Fri- 10:00 am Mahalakshmi abhishekam and pooja
6:30 pm DIWALI CELEBRATIONS. Cultural activities (Play and Dance by children) followed by Diwali Dinner (there will be a $5.00 charge per plate).

THERE WILL BE A PROFESSIONAL PHOTOGRAPHER TO TAKE FAMILY PORTRAITS. COME READY IN YOUR FESTIVE ATTIRE!

God Bless You
Priests:
Sreeram Hariharan
BS Srinidhi
HTCT Board