HINDU TEMPLE OF CENTRAL TEXAS
OMKARA MAHAGANAPATHY DEVASTHANAM
The GANESHA TEMPLE OF TEXAS
4309 Midway Drive, Temple, TX 76502
www.hindutemple.org /254 771 1270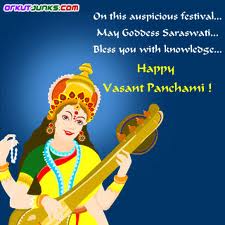 BASANTH PANCHAMI (VASANTHA PANCAMI)
15th - Friday - 6:30 pm Saraswati Pooja.

This is a very auspicous day to initiate children to the studies (vidyarambham). Those interested in having their children initiated, please come 15 minutes early (by 6:15p.m)

Devotees are encouraged to bring books for pooja.

Devotees also may bring flowers, fruits and coconuts.

After Saraswati Pooja there will be a light meal.


God Bless You
Priests:
Sreeram Hariharan
BS Srinidhi
HTCT Board

Please note: The regularly scheduled Lakshmi Abhishekam and Pooja will take place at 10:00 am.