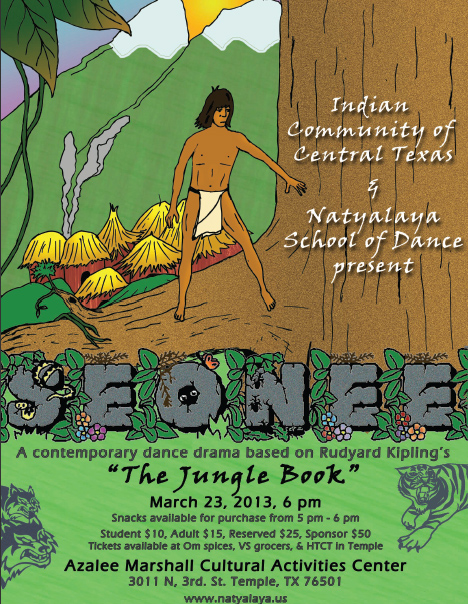 One of Natyalaya's most popular shows, based on Rudyard Kipling's popular novel The Jungle Book, Seonee is back!

Join Mowgli, a human child raised by wolves, along with all of the animals that live in the Seonee jungle. Torn between human civilization and his beloved Seonee home, Mogwli must face the terrifying tiger Shere Khan to protect both the town and the jungle, as he struggles to learn his place in the world.

Seonee is a musical extravaganza featuring English lyrics and original music composed in India. Originally performed in 2009, the production was choreographed by Anusham Dance of Chennai ("Ganga," "Anthariksha"). Seonee features several new, up-and-coming performers alongside many original cast members, including the original Mowgli.

The show will be held on Saturday, March 23rd at 6pm at the Azalee Marshall Cultural Activities Center, 3011 N, 3rd. Street, Temple, TX 76501. Sumptuous snacks will be available for purchase before the program, starting at 5:00 p.m.

Special guest performances by students of Natyalaya.



The Board
Hindu Temple of Central Texas
Hindu Temple of Central Texas, 4309, Midway Dr, Temple TX 76502
254.771.1270 Phone |
Driving Directions